Jesus Holy
Are you looking for a simple Christmas arrangement that can be put together in a couple of practices? If so, you can check out our newest selection "Jesus Holy," arranged by Geoff Groberg, touched up by Mel Windham, and with additional lyrics by Cherie Call.
Many will recognize the tune as "Stars Were Gleaming" from the LDS Children's Songbook. However, this version features an earlier translation by George K. Evans, slightly modified to be more appropriate in LDS sacrament meetings. It also includes a snippet from the original chorus, which will sound new to many.
The setting is a peaceful one with a hint of folksong typical of Groberg arrangements. Before reading on, take a listen while looking at the opening bars: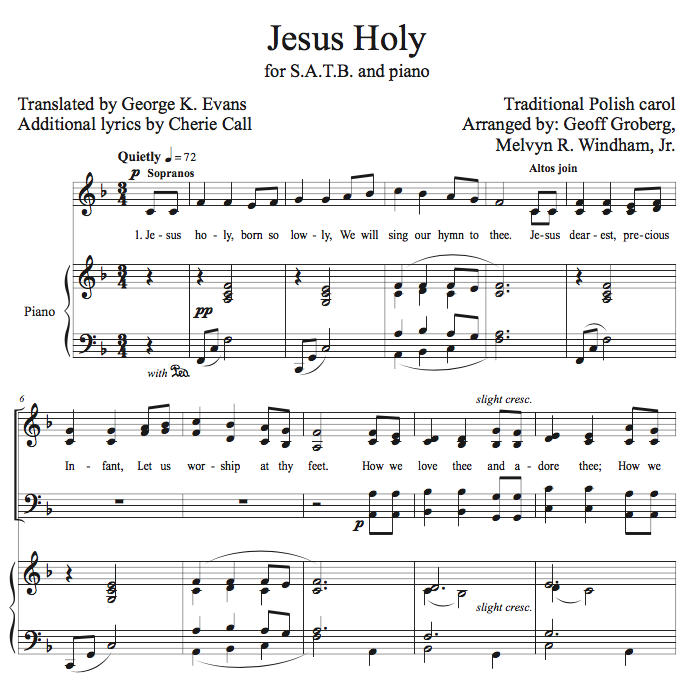 A Short History of the Carol
The original carol is a traditional Polish tune named "W Zlobie Lezy." Both the original tune and lyrics are hundreds of years old. If you can read Polish, you can read the lyrics here. The tune is slightly different. Listen to a few bars here, and you may recognize the melody with slightly different rhythms. The chorus is entirely different.
Edith Margaret G. Reed discovered the carol in 1920 and published a couple of English translations as "Infant Holy, Infant Lowly." The most famous version (known by most Christians) was published in 1921. Lyrics are here. In her version, Reed chose to use the alternative chorus tune that we're all used to.
A separate translation arose in 1930: "Stars Were Gleaming" by Nancy Byrd Turner. This is the version most familiar to the LDS. Lyrics are here.
The last well-known translation "Jesus Holy, Born So Lowly" came from George K. Evans in 1963 in his collaboration with Walter Ehret in "The International Book of Christmas Carols." You can read the lyrics here. Ehret's musical arrangement was similar to Edith Reed's except he returned to the more upbeat original chorus.
Fast forward to around 2008 when singers Mark Geslison and Geoff Groberg, both of Scandinavian descent, wanted to put together a Christmas CD featuring several Slavic/Scandinavian carols. They decided to take George K. Evans' version and alter it slightly, with help from lyricist Cherie Call who added an entirely new third verse. You can hear their version here. Click on "Jesus Holy" on the left side to listen.
Finally in 2016, Geoff decided to adapt "Jesus Holy" for choir, capturing much of the mood of the 2008 version, and with the intent of keeping it simple. He had originally arranged it for three voices, but Mel Windham thought it would work better with four (using frequent voice doubling to keep it simple). And this is the piece for sale today.