Daniel Carter: Silent Night for Voice, Piano, Flute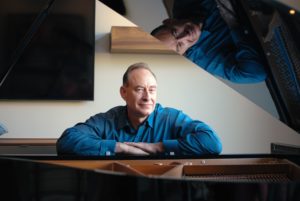 Daniel Carter's recently revamped setting of "Silent Night" for high voice, piano, and flute marks his third Christmas piece to appear here at Melkim Publishing.
An earlier version of this appeared in the no-longer available collection "Hymn Duets" published in 2001. A month ago, when Dan asked me what I wanted to publish for our last piece of the year, this one stuck out — almost like listening to heaven. I said, "What about this 'Silent Night'?" and he answered, "Let's do it."
But then he said, "Wait — let me fix a few things." The couple-of-decades-older composer wanted to improve the piece, and it got even better. For example, he took all parts where the flute doubled the voice and changed it up. There are even sections where the melody moves fluidly between the voice and flute.
He also fit the music more into a high voice range. It works best with soprano, which maximizes the melodic interplay with the flute, but a tenor voice would also work.
The piano part is a little more on the advanced side, while the flute and voice parts are more intermediate. A little bit of practice can result in a good performance for any Christmas program.
Here are words from the composer himself:
---
Nearly 25 years ago, a very musical family were neighbors of ours. The Mom was a pianist/organist and could sight-read about anything. Her two daughters both were accomplished musically as violinist and flautist. We talked about the possibility of me composing or arranging a piece for them to perform. As fall approached, it was time for me, as a choir director, to start organizing the music and rehearsal schedule for the church choir. As I looked at all the arrangements I could find of "Silent Night" (many of the beautiful!) I never could find one that was kind of dreamy, ethereal, and nostalgic—that kind of feeling where you could imagine being at the manger that night. As I played with ideas, I decided this was the perfect time to arrange a piece for my friends. As it came together, I was pleased with the feel and the rolling, gentle accompaniment in the piano. When I introduced it to my friends, Janene (the mother) began the piano accompaniment with Tina on flute and Jenny on violin. There were very few problems and mistakes even on the first read-through. I held my breath wondering what their verdict would be. They chuckled slightly, looked at each other and said, "Wow! Let's do it again!" The instrumental version was a great success with my friends and at the Christmas program.
The following year, I had a request to use the instrumental arrangement as a vocal solo. So I adapted the flute and violin parts into the familiar melody for voice, and adapted the flute part to suit. This year (2018) I updated and rewrote some things in the vocal solo version to clarify lines and get balancing between the voice and two instruments, and I think it's a far better arrangement as a result. So after nearly 25 years, I'm very happy and excited for this arrangement to be released through Melkim Publishing!
Daniel Carter
---