Daniel Carter: Guiding Star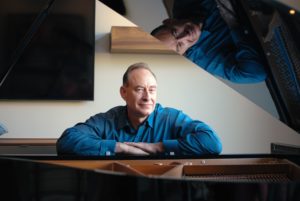 For this Christmas, Daniel Carter has released two new versions of a popular hymn he composed a few decades ago — perhaps you may recognize the tune.
"Guiding Star" is a hymn exploring the star that marked our Savior's birth. It is now available for SAB Choir and also for Medium Voice Solo.
These pieces feature an easy-to-intermediate accompaniment with only small challenges for a typical pianist.
The SAB version is also easy-to-intermediate for the voices, and is perfect for small choirs.
The Medium Voice Solo takes a little more variety in the melody and may take some practice. It works for either baritone or mezzo-soprano. The singing range is from C to High-E. The higher parts are mainly in the last verse.
Overall, both settings are on the soft and light side. As the lyrics turn to praising toward the end, it gets louder, but still light. The best way to rehearse and perform is to just enjoy it and sing, and think about what the lyrics mean.
Here are some words from the composer himself:
---
William Chatterton Dix, who authored the words to "Guiding Star" (which is usually known as "As with Gladness Men of Old") also authored the words to "What Child Is This?" which is perhaps his best known lyric. The words to "Guiding Star" are most commonly sung to the hymn tune "For the Beauty of the Earth" (tune name DIX) composed by Conrad Kocher. As much as I like that hymn tune, I felt that Dix's words needed an original melody, so I created a new hymn setting for them in the mid-1980s. Several years later I arranged that setting as a vocal solo in early 2004. At Melkim's request, I took the accompaniment of the vocal solo version and created the SAB arrangement for choir in 2019.
Chatterton's words feel optimistic with lots of images of light and joy. I wanted my setting to feel more like a Christmas carol than a huge anthem, so I kept the voicing and accompaniment consistently simple. The first four eighth notes at the beginning of each verse give a feeling of moving quickly toward something exciting. The text for the last verse is slightly altered from Dix's original. Instead of using Dix's "Thou its light, its joy, its crown," I decided to personalize his words to "Jesus, be my joy, my crown, Be my sun which goes not down," enabling a personal invitation to embrace the joy and beauty of this Christmas message.
---
Here is a simulated performance of the SAB Choir version: